The Big Picture
The potential Twilight Saga reboot has sparked mixed reactions, with some fans welcoming the opportunity for redemption while others argue it's too soon.
Jessica Stanley, a character underutilized in both the books and movies, could be a focal point in the reboot and offer much-needed depth and nuance, while also highlighting female friendships.
By incorporating Jessica's character, the reboot can address the lack of characterization in Bella's life beyond her romantic relationships, add humor, and provide a more realistic portrayal of high school.
News of a potential Twilight Saga reboot broke last April, and in our current reboot and spinoff-obsessed era, it's no surprise Hollywood is looking to bring the series back from the dead (pun intended). Unsurprisingly, the news was met with mixed reception –some fans arguing it's too soon to bring back the franchise (the 5th and final movie in the series premiered in 2012) and others claiming this could be a redemption opportunity for the saga. If the creators lean into the latter, and hopefully they will, one way to do this would be to recreate the character of Jessica Stanley (played by Anna Kendrick in the film adaptations) and the portrayal of her and Bella Swan's (Kristen Stewart) friendship. Jessica is a character who is underutilized in both the books and the movies, neither of which provides her with any depth or nuance. She seemingly exists as a foil to Bella – to represent the life she could have had in Forks had she not gotten tangled up with the Cullen family and the supernatural world. But with the reboot, there is an opportunity to bring her into the heart of the story and provide a much-needed focus on female friendships.
Who Is Jessica Stanley in 'Twilight'?
Jessica Stanley is introduced in the first Twilight movie, during Bella Swan's first day at Fork's High School. Her movie character is actually an amalgamation of the book version of Jessica Stanley and her friend Lauren Mallory, who is not mentioned in the films. When new girl Bella immediately catches the eyes of the boys at school, Jessica takes Bella under her wing in hopes of sharing some of her spotlight. She makes little effort to cover her jealousy, making passive-aggressive comments like "Oh my god, it's like the first grade all over again, you're the shiny new toy…" when the boys, particularly Mike Newton, ostentatiously flirt with Bella in front of her. Despite this, she does make an effort of trying to include Bella in her friend group, inviting her to go surfing and shop for prom dresses despite Bella's clear disinterest in both of those activities.
Aside from the Cullens, Jessica is portrayed as Bella's closest friend throughout the series, and she is hardly mentioned or seen at all once Bella begins dating Edward. She becomes so irrelevant to the story that her actress, Anna Kendrick, famously Tweeted in 2008, "Holy sh*t. I just remembered I was in Twilight." In the second book and film, The Twilight Saga: New Moon, Bella and Jessica attend a movie together after Edward breaks up with Bella and moves away. Bella is left in a deep depression, and this negatively impacts her already-fraught friendship with Jessica when, after the movie, Bella ditches her to ride motorcycles with a group of sketchy men so she can hallucinate Edward's presence (makes total sense, right?). The last time viewers see Jessica is as a guest at Bella and Edward's wedding in Breaking Dawn – Pt. 1. After making side comments to her friends that Bella must be pregnant if she's getting married at 18, she leads a toast at the wedding. Her toast is full of backhanded compliments, saying, "Edward is all about Bella. Even though she's not the captain of the volleyball team. I'm just kidding, I'm just kidding. Or the president of the student council."
The Twilight Reboot Has the Chance to Show Some Girl Power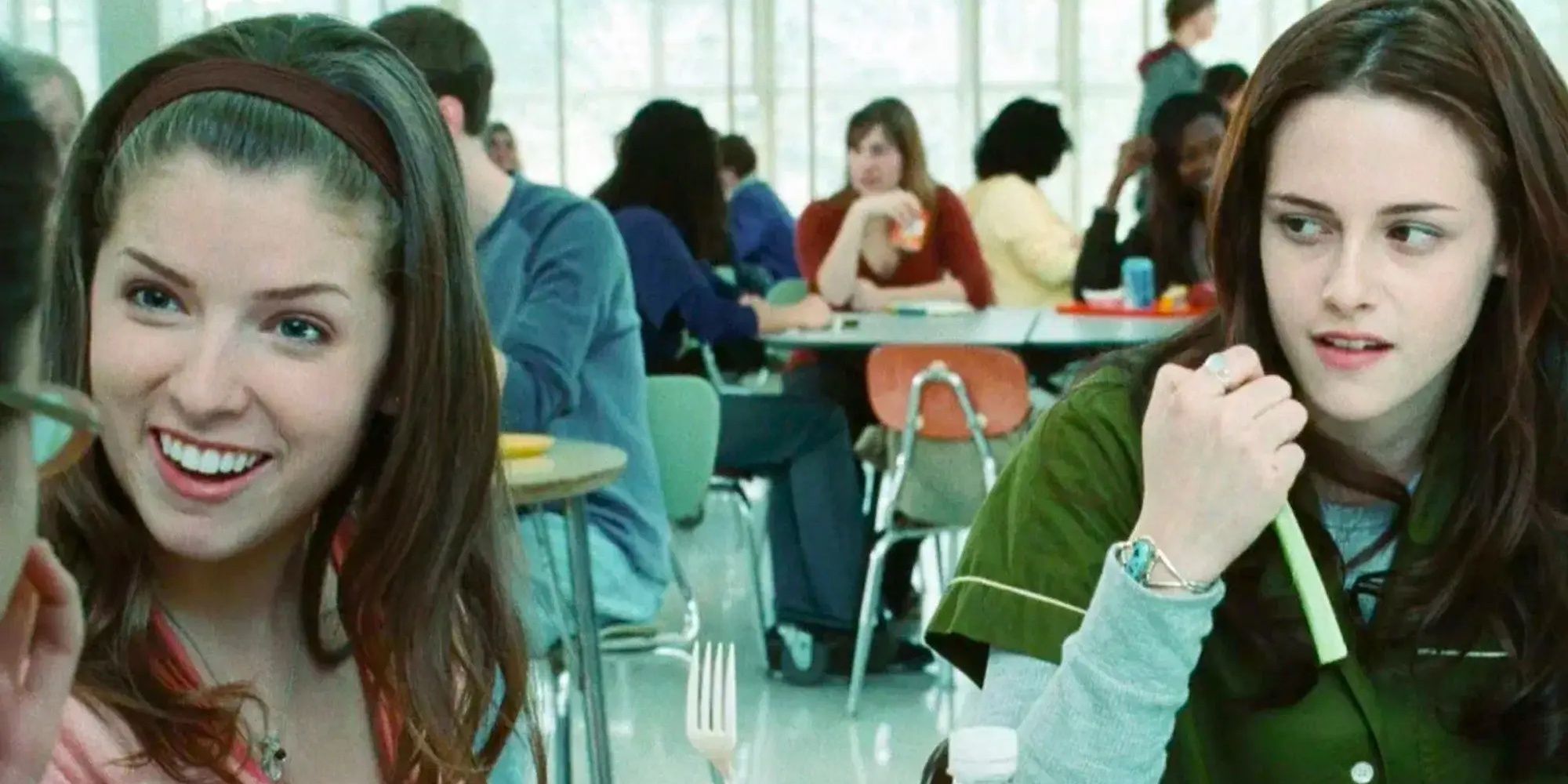 One of the biggest flaws of the Twilight series is Bella's lack of characterization outside of her romantic relationships. And even those aren't always fully fleshed out, particularly in the film versions. Bella Swan has gained somewhat of a reputation for being one of the most Mary Sue-esque characters in recent cinema. Her traits are fairly generic and bland in a way that any viewer (or reader) can easily fit themselves into her shoes. And her relationships are surface-level enough as to lack any real nuance or room for analysis. While the addition of a strong friendship with Jessica itself may not be enough to completely transform and breathe life (again, pun intended) into Bella's character, it could add a welcome female focus to the new series that was too often overlooked by media in the aughts. Not only would this make the show more in line with themes prioritized in film and TV in the 2020s, but it would help broaden the series' appeal to those who have historically been put off by its romance-heavy plot.
Jessica's character could also introduce some much-needed comic relief into the series that spends so much time in the dark gloom of the vampire universe. Sure, much of Jessica Stanley's humor in the movies could be attributed to her actress, Anna Kendrick, known for her comedic skills in movies like Pitch Perfect and Scott Pilgrim vs. the World. But an actress with similar comedic abilities to Kendrick's could be a perfect fit to play this character in the television version. Movie-Jessica gave us some iconic lines like "Aren't people from Arizona supposed to be like, really tan?" (in reference to Bella's famously pale complexion). In a series that can often get weighed down by its own melodrama, moments of humor are so important to help it stay fresh and engaging. A character like Jessica would be a great way to add some of that comedic element, but it would have to be handled delicately. The show would need to fine-tune a balance between using Jessica to relieve the show's tension while still taking the time to add depth to her character beyond just being funny.
Like so many teen shows and movies, Twilight seems to constantly forget that it takes place in high school and features high-school-aged students. The complete suspension of reality is part of the appeal that made YA series' such as Twilight so popular in the 2000s, but with media today taking a larger focus on real life, it would be wise for the series to lean a bit more into the day-to-day realities of Bella's human life and human friends, particularly in the beginning. Re-imagining Jessica and Bella's friendship is one great way to infuse some levity, humanity, and female empowerment into the series. Fleshing out the rest of Bella's "friends" would be the logical next step. The added bonus is that a deeper focus on Bella's human life will make her decision to become a vampire and leave her friends behind so much more powerful and complex, two things the film adaptations sorely lack.