Editor's note: The below contains spoilers for Episode 6 of Ahsoka.
We've finally arrived at another galaxy far, far away in Ahsoka. Episode 6 took us straight to Peridea, a planet in a whole new part of the universe that's unfathomably far away from the main Star Wars galaxy, and finally introduced the main villain of this new era in the franchise, Grand Admiral Thrawn (Lars Mikkelsen), in all his live-action glory, as well as a lot of his typical iconography, like the Star Destroyer Chimera and his own weirdly, almost fanatically loyal army.
These stormtroopers already seem quite unsettling, until we meet Thrawn's right-hand man and captain of his guard, Enoch (Wes Chatham). He is the one at the front of the platoon aboard the Chimera when Thrawn greets the Great Mothers, Morgan Elsbeth (Diana Lee Inosanto), Baylan Skoll (Ray Stevenson), and Shin Hati (Ivanna Sakhno). Enoch is also the one who provides Sabine Wren (Natasha Liu Bordizzo) with her armor, weapon, and a Howler as she departs in her search for Ezra Bridger (Eman Esfandi). Every Stormtrooper is wearing armor that seems patched up in an almost macabre way, but Enoch's looks are downright disturbing, with a missing faceplate that was replaced by a golden humanoid-looking mask. What's up with that?
Enoch Is the Captain of Thrawn's Guard – But There's Much More to These Troopers
As we can quickly attest, Thrawn's Stormtrooper legion isn't a normal one. The broken, patched-up armors everyone is wearing, their fanatic chants, and disturbing discipline are not something your average Stormtrooper – the ones that can barely hit a mark a few steps away – would fit into. In fact, they aren't even identified as Stormtroopers by the Disney+ subtitles, but as "Nighttroopers." The golden plates they wear with their armor and the beaten-up aesthetic make them look ancient, even, with a look and behavior that's reminiscent of the Roman Legions of old (in case you think a lot about the Roman Empire, too) and that's perfectly in line with the narrative of an army that's been stranded in exile far from home for years. And not any place far from home, but Peridea.
We now know Peridea to be the homeworld of the Dathomiri Nightsisters and their Witch Kingdom, so Thrawn's army was never completely alone. His military mind is always thinking in terms of consolidating power, and establishing an alliance with the Great Mothers is key in that sense. That's certainly how he managed to patch up the Chimera and the Imperial equipment of his soldiers and crew. Another aesthetic reference here is the Japanese art of Kintsugi, which consists of mending broken objects and replacing their lost pieces with gold. Apart from Thrawn, every single Imperial is wearing something with at least a touch of gold, and while this may simply be about his own military discipline, it's probably an indication of what the Nighttroopers really are.
In the first half of Ahsoka, we see Baylan Skoll and Shin Hati working with Marrok, the last Inquisitor. A lot of theories were made about who he could be, from an evil Ezra Bridger to a new canon version of Galen Marek (Sam Witwer), but when Ahsoka Tano (Rosario Dawson) finally strikes him down in Episode 4, it's revealed that Marrok was actually an undead person kept alive by Nightsister magick (yes, with a K). Also, we have heard Marrok's voice before, and it sounds awfully similar to Enoch's own voice, so could that mean he and the other Nighttroopers are also undead beings kept alive by the Nightsisters? Suddenly, this idea seems very reasonable.
RELATED: Which Clone Wars Battles Appear in 'Ahsoka' Episode 5?
Why Does Enoch Look Different From the Other Nighttroopers?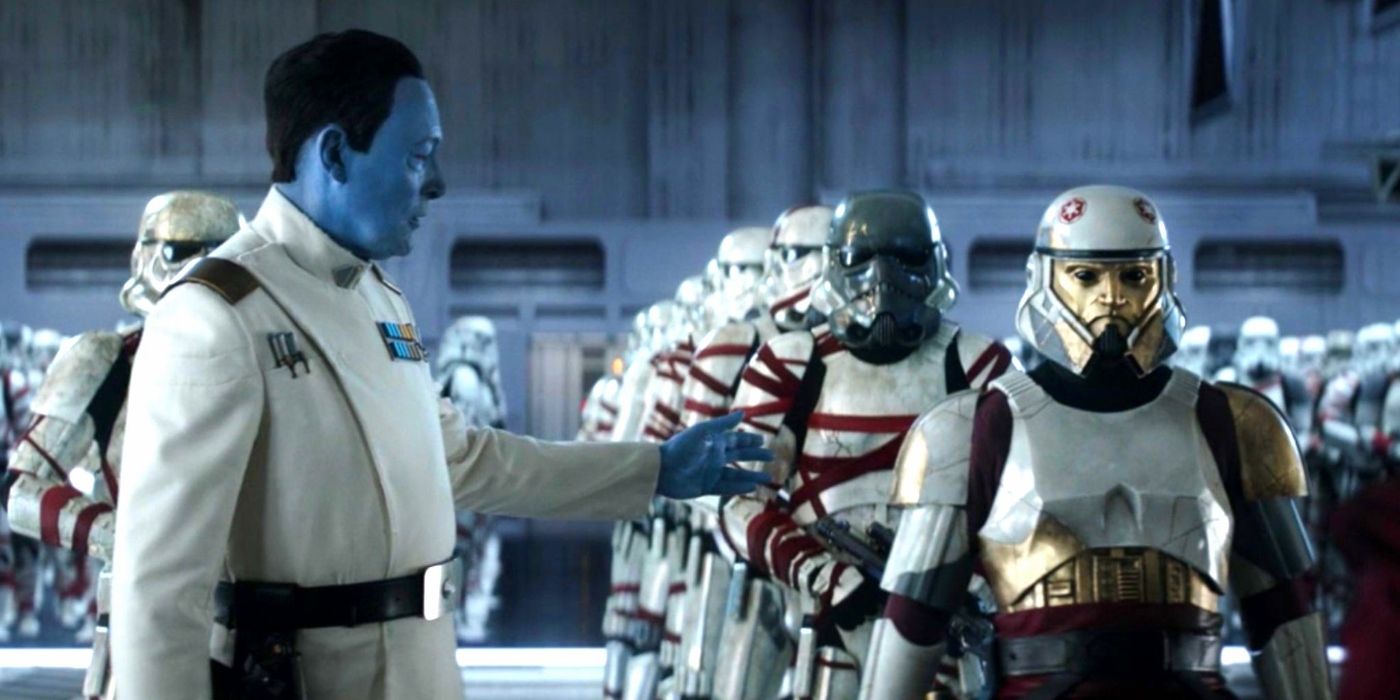 The overall visuals of the Nighttroopers are indeed awesome and disturbing, and make a lot of sense in the context of an army that's been exiled for such a long time, yes. But still, there's something else about Enoch that sets him apart from his subordinates in the army. When Thrawn shows up for the first time, Enoch is shouting orders at the battalion as the soldiers shout Thrawn's name – another behavior that was typical of Roman Legions and their commanders – and when Enoch finally shows his own face, well, it's the stuff of nightmares.
His helmet has a golden humanoid mask instead of a proper Stormtrooper faceplate, his armor has a lot more patched-up components, and he wears robes from the waist down. All that sets Enoch apart in many ways, but the most important is clearly his command position. Being Thrawn's right-hand man, he needs to stand out naturally, and with Stormtroopers the best way to do that is through their armor. Clone troopers in leadership positions already customized their armor, and the First Order will also have three distinct Stormtroopers with different armor in a few decades: Captain Phasma (Gwendoline Christie) wears chrome armor in the Sequel Trilogy, Commander Pyre (Liam McIntyre) sports his golden-plated armor in Star Wars Resistance, and Captain Cardinal wears red-plated armor in the novel Phasma.
But Enoch's face mask is special. While it does have ties with Roman military iconography – and makes him look like a gladiator with his robes, too – it resembles more a funerary mask, the sort of which ancient people like the Greeks would put on their dead as a way of helping them to retain their identity in the afterlife. And once again we stumble upon the thread of reanimated undead people, because, if this is inspired by funerary masks, then Enoch is probably dead himself. An even more disturbing hint is the two red Imperial insignias he has above his mask. He's the only Night Trooper to have those, and they look like seals put in objects meant to seal spirits inside. As the leader of the Nighttroopers, if he wears them, the whole army is safe. Maybe that's reaching, but it does make some sense.
Enoch Is Played by a Household Name on Sci-Fi TV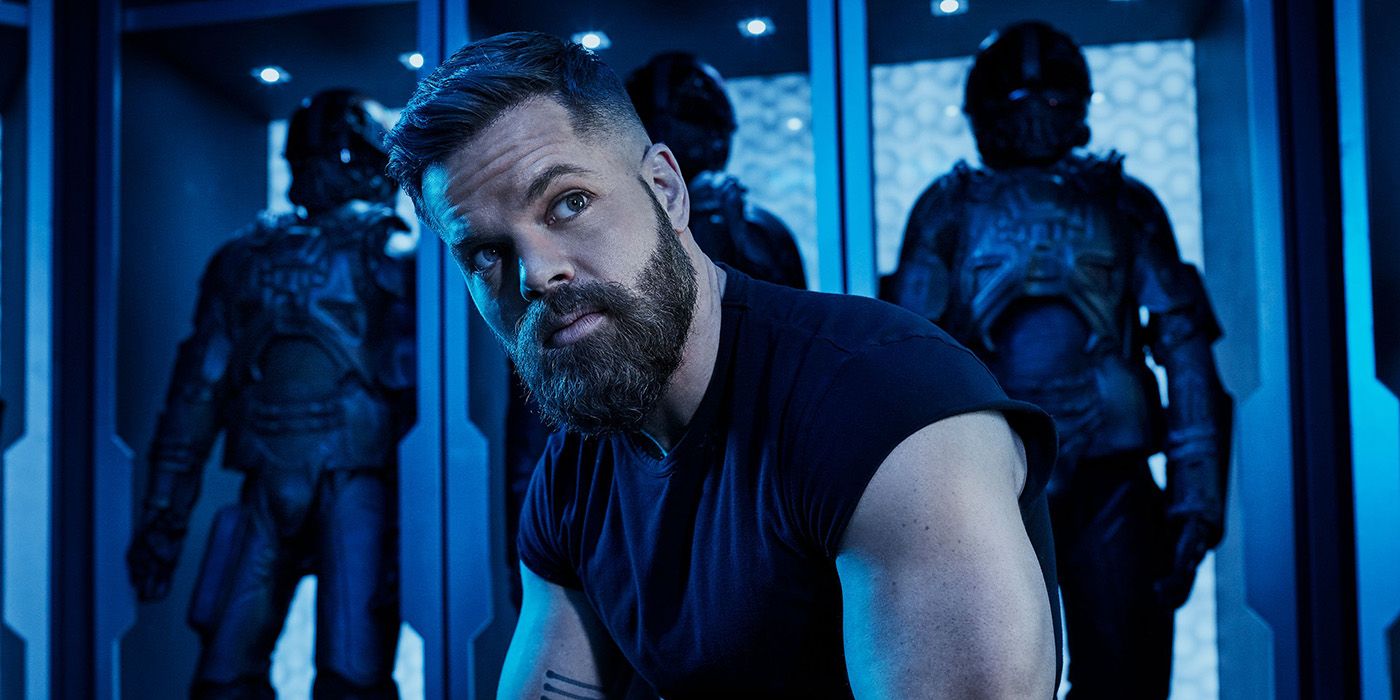 Enoch's character is new and an original creation for Ahsoka, so there's not a lot of lore about him, but he was first mentioned back in April 2023, when it was reported that he would be played by Wes Chatham. Fans of sci-fi immediately caught up on this, as Chatham plays that guy, Amos Burton, one of the leads in one of the best and most celebrated series of the genre, Prime Video (formerly SYFY)'s The Expanse.
Chatham is perfect for the role of Enoch, with plenty of experience as a military type on the screen (and being a former military himself), playing the likes not only in The Expanse but also in Tenet and both parts of The Hunger Games – Mockingjay. It's just a shame that we probably won't get to see his acting chops behind the creepy funerary mask… Or maybe we will?
New episodes of Ahsoka premiere Tuesdays on Disney+.