This review was written during the 2023 WGA and SAG-AFTRA strikes. Without the labor of the writers and actors currently on strike, the film being covered here wouldn't exist.
What would you do if your home was invaded by aliens? That's the question that No One Will Save You poses when an alien race arrives in small-town America, leaving outcast Brynn Adams to fend for herself in the middle of a ruthless invasion. The film stars Kaitlyn Dever as Brynn, a local outcast who lives in the countryside and rarely ventures into town. When she does, she isn't exactly the locale's most popular resident. So when otherworldly visitors with an unknown agenda arrive, the film truly leans into its title — no one is coming to save her and Brynn must fend for herself.
No One Will Save You pays homage to several sci-fi and horror classics, with clear visual references to movies like Independence Day, Signs, and even The Village. Comparisons to John Krasinski's A Quiet Place would also not be off base as the film features very little dialogue and terrifying alien creatures seemingly bent on ending the human race. However, No One Will Save You still forges its own unique path and carves out its place among these beloved genre favorites with unique twists and a powerhouse performance from Dever.
Brian Duffield's 'No One Will Save You' Is a Unique Experience You Can't Look Away From
Written and directed by Brian Duffield, No One Will Save You is a captivating addition to the sci-fi horror genre. With very little exposition, it keeps you in a state of tension from the very opening moments of the film all the way through its unexpected and unsettling conclusion. While the personal side of Brynn's story is slightly lacking, with somewhat easy emotional shorthand used to pack a punch in a very short space of time, the action and scares are both inventive and intense. Duffield uses a staccato-style pacing for this film that allows the viewer mere moments of reprieve between heart-pounding fight sequences and tense scenes filled with anxious anticipation. This is the type of movie that you can't look away from, and you won't want to, as Dever goes head-to-head with increasingly terrifying alien creatures whose motivations are not exactly clear but whose mere presence is utterly unnerving.
The expertly crafted details of No One Will Save You make it stand out from the crowd of similar genre fare. The score and the sound design play a huge role in making the film an effective and horrifying romp through the rural area in which Brynn finds herself the target of an alien invasion. The music of the film, composed by Joseph Trapanese, is practically its own character, guiding the audience through moments of emotion and the occasional bit of levity while striking just the right chord of terror as Brynn fights for her life against the imposing alien creatures who've made themselves at home in her house. In accompaniment with the music, the sound design of the movie adds its own layer of horror. The alien creatures themselves have an unnerving guttural tone and the things that go bump in the night induce the kind of fear that makes you feel as though you're holding your breath along with Brynn.
The creature design for No One Will Save You is cleverly executed, with a play on the classic "little grey man" style aliens popularized by purported claims of UFO sightings and abductions from the 1960s. These aliens, however, incorporate enough unsettling elements in the way their bodies move and certain features, each varying slightly between each creature, that they are easily miles more horrific than their counterparts on the likes of The X Files or Stargate SG-1. Through a great mix of practical and CGI effects, as well as a retro small-town aesthetic, the movie feels unstuck in time despite being set in 2022. The practical effects are very well done and ground the movie while the CGI elements bring an otherworldly (pun intended) quality to the thriller.
With breathtaking cinematography from DP Aaron Morton, one of the only major drawbacks of No One Will Save You is that 20th Century has given it a straight-to-streaming release. This movie is one that would play incredibly well on the big screen with a theater full of viewers with bated breath and scares that would have people leaning back in their seats in uneasy horror. The film leverages its modest budget with atmospheric aerial shots and impressive action set pieces to give it a grand scale worthy of a theatrical release.
Kaitlyn Dever Delivers One of Her Best Performances Yet in 'No One Will Save You'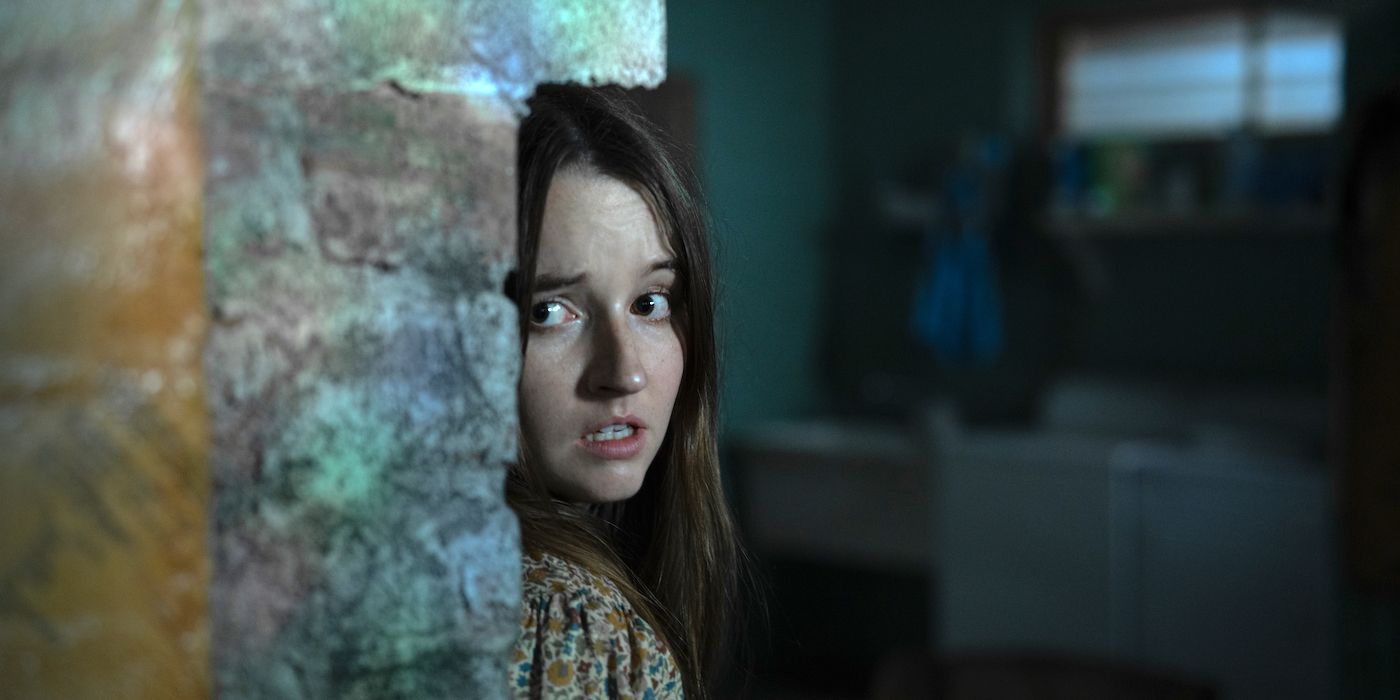 Dever has had an impressive career so far with outstanding performances in Booksmart, Unbelievable, and more. With No One Will Save You, she delivers one of her best performances yet as her character fights for her life. While the human side of Brynn's backstory could have been further fleshed out in a longer movie, it doesn't necessarily need to be because Dever tells you everything you need to know with her face. From hopeful and heartbroken to outcast and terrified, she expertly moves through her emotions to deliver a nuanced performance that is both sympathetic and deadly.
No One Will Save You is a mix of high-concept and classic genre tropes that wouldn't work without a compelling and captivating lead performance from Dever. Consistently delivering performances that differ from her previous roles, she proves that she is a final girl like no other and I would love to see her take on more sci-fi and horror roles as her career continues to take off. No One Will Save You offers viewers an original take on the ways that self-defense can both help and hurt, through the lens of isolation and alien invasion. Dever takes Duffield's clever, anxiety-inducing script and levels it up with her complex performance. Together the duo are a one-two punch, delivering a thought-provoking sci-fi thriller that promises to become a favorite among genre lovers.
Rating: A-
The Big Picture
No One Will Save You is a unique sci-fi horror film with clear visual references to classic movies while offering its own twists and a powerful performance from Kaitlyn Dever in the lead.
The film creates tension from the very opening moments, using inventive action and scares to keep viewers on edge. The score and sound design play a crucial role in creating an effective and terrifying atmosphere.
The cleverly executed creature design and mix of practical and CGI effects make the aliens in the film more horrifying than traditional depictions. The cinematography is also a highlight, making it unfortunate that the film had a straight-to-streaming release.
No One Will Save You is now streaming on Hulu.