The Big Picture
A Haunting in Venice takes audiences to a post-World War II setting and focuses on an intimate Poirot mystery with haunting themes.
Director Kenneth Branagh and cinematographer Haris Zambarloukos chose to shoot the film digitally for its low-light capabilities and preferred depth of field.
The film relies on practical sets and techniques, creating an authentic experience for both actors and audiences.
For the third Hercule Poirot film in the Agatha Christie-inspired trilogy, A Haunting in Venice, director and lead Kenneth Branagh reunited with long-time collaborator and cinematographer Haris Zambarloukos. Having worked his magic behind the camera for the first two films, Murder on the Orient Express and Death on the Nile, Collider's Steve Weintraub spoke with Zambarloukos about the challenges unique to this Poirot mystery and what changed since their last cinematic sleuth.
A Haunting in Venice takes audiences to a post-World War II world where the esteemed detective, Hercule Poirot (Branagh), has retired to the picturesque Italian city. Having given up on solving dastardly crimes, Poirot is hard-pressed to join his old friend and best-selling author Ariadne Oliver (played by Tina Fey) to a Halloween séance at an old, haunted palazzo, owned by the renowned opera singer Rowena Drake (Kelly Reilly). Drake has invited guests to the dilapidated old orphanage in hopes that their clairvoyant host, Joyce Reynolds (Michelle Yeoh), can contact the spirit of her daughter. Meant to be a night of revelry, the festivities are cut short by a murderer among them, though the living may not be their only concern.
During their interview, Zambarloukos discusses why he and Branagh opted for digital over film for their third Poirot case, weighing in on the film dogma made popular by Christopher Nolan. We learn what Branagh is like on set as a director, the challenges faced when adapting Christie's stories, the groundbreaking work of Anthony Dod Mantle (Slumdog Millionaire), and what it was like working alongside director Ben Wheatley on The Meg 2: The Trench. Check out all of this and more in the video above, or you can read the full transcript below.
COLLIDER: You've shot a number of different projects. If someone has actually never seen anything you've done before, what is the first thing you'd like them to watch and why?
HARIS ZAMBARLOUKOS: That's a good question. I have to say, I think Belfast is one of my favorite films I've made. So I'd say, why don't you start at what I consider maybe my best work and then work your way down? [Laughs]
I spoke to Ben [Wheatley] recently for The Meg 2 [The Trench], and he sounded like he had such a blast. He told me a great story about why he wanted to work with you. How much fun did you have making the Meg sequel?
ZAMBARLOUKOS: Oh, it was an absolute blast. Ben is a fantastic, fantastic filmmaker, and he was the reason why I wanted to participate. I've always loved his films, and he's a true filmmaker. It was a joy to make with him.
I love the shot you guys did of the inside of the shark biting down, with the people coming into the mouth. I made Ben break down how you guys shot that.
ZAMBARLOUKOS: Yes, that was his shot. He definitely wanted that in the film. [Laughs] He's got a great sense of humor. He's got a great sense of terror and a great sense of humor.
So you and Kenneth started working together on Sleuth (2007). You couldn't have known when you made that project that it was gonna lead to this collaboration of [nine] movies. When did you realize, "Oh, wait, maybe he really likes me for this job?"
ZAMBARLOUKOS: Oh no, Ken is always, not just with me but with everyone, he's very generous. He's a generous soul, so he's generous with his compliments, he's genuinely appreciative of every department and every collaborator he's with, and that, I think, is quite infectious. There's an old-fashioned chivalry that Kenneth has that. It makes you want to be the best you. On set, you just want to behave in a polite manner, in a professional manner, and to just work with passion. That's what I got in the first collaboration with Ken, and that's what I got on the last collaboration. I basically look at every film as if it's the first and last film I will do, with any director, it doesn't matter whether it's someone I've worked with a lot. Certainly, with Ken, I kind of feel like you have to not take the relationship for granted and be a great communicator. Communication is the best form of both collaboration and friendship.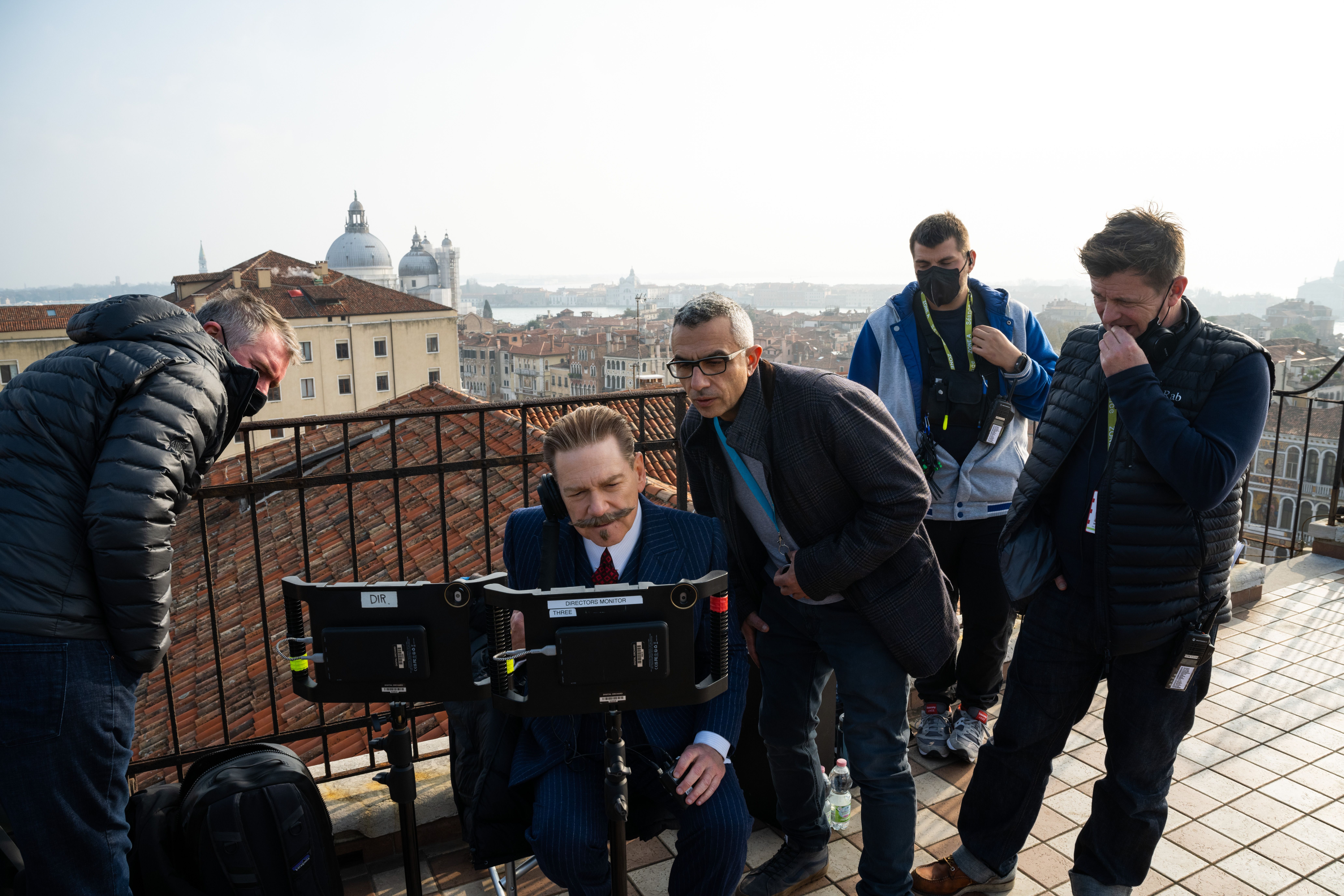 What were some of the unique challenges you ran into while making A Haunting versus, say, the first two in the trilogy?
ZAMBARLOUKOS: Well, I think one of the things about Haunting in Venice is it's a far more intimate story. One of the things that are characteristic of a Christie novel and story is that she lived and traveled in a time when travel was rare and expensive, and she basically made her readers travel the world with her. Subsequently, within that travel, what that does is just opens those receptors when you read those kinds of stories. You're kind of in awe, and in this adventure, and all of a sudden, she just takes it all the way back down to this very elemental human story about the human condition. It's a dramatic moment, a cathartic moment of a crime, and you live through the crime and punishment in her writing. You have a cathartic moment at the end.
I think in this particular case, which is a lesser-known story, the location, although extremely important in our case, was not so much about opening the receptors of travel and openness, et cetera, and the exuberance of life than it brought it down to these base levels. You're already in a dark, postwar period where things are already…there's none of that exuberance to begin with. So, it becomes a different type of story, and it becomes a story that's intimately about the human condition. It becomes a horror story in that the crime committed is an incomprehensibly terrible crime, and it haunts both protagonist, Poirot, it haunts the people involved around it, and it ultimately haunts the audience that experienced this tragedy and this crime.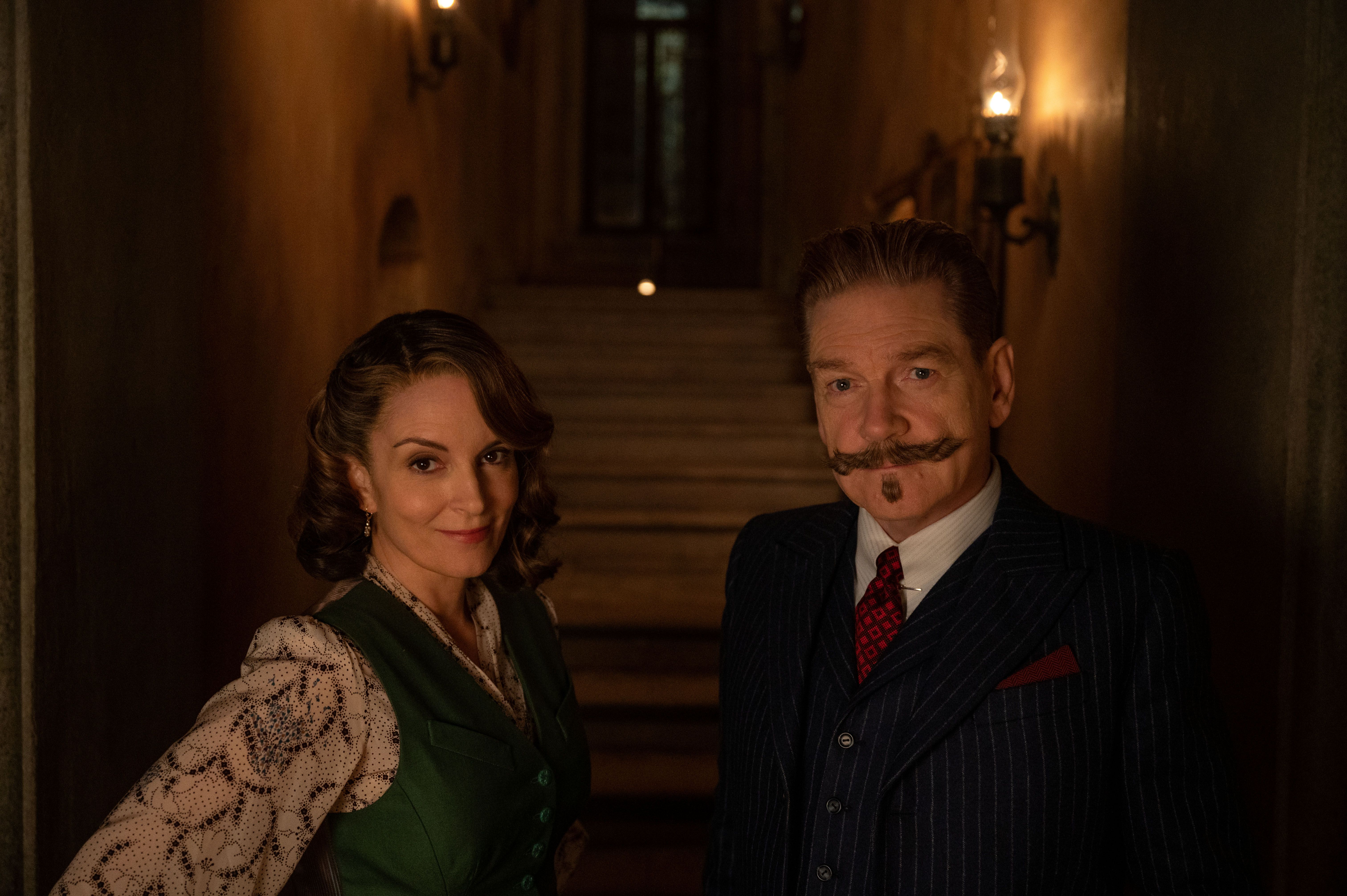 The first two films in the trilogy you shot on 70 millimeter, and this film you shot digitally. Can you talk about why you switched to digital for this film?
ZAMBARLOUKOS: There were a lot of photographic characteristics that we wanted to maintain in the Poirot films. One was a certain kind of clarity, the other is a sense of depth of field. Now, we wanted to shoot this in a very dark way, and both film and digital so far have been limited, not much more than the 800 ASA range. When you wanted to shoot a film in low light levels with candlelight and authentic lighting fixtures of a particular time period, you usually, in the past, from the days of Barry Lyndon onwards, even to modern day films, you'd have to rely on using a faster lens. By using a faster lens, an f-stop of, say, T1 famously on Barry Lyndon, or 1.4. On most low-light level films, you have very little depth of field, and that depth of field comes into play where you only see one eye in focus at any one given time. You're constantly making decisions in camera about, "Which are you going to focus on?"
One of the things that I think makes the intimacy of the portraiture that we have used on previous Poirot films is that we work at a slightly higher depth of field than most films, T4. Not Citizen Kane levels, but just enough that a face and its features are all in focus. So, we wanted to shoot with a large format lens camera system that was in the highest sensitivity to light, and that was the Sony Venice 2. Those photographic elements were more important than the analog versus digital – that we were able to shoot at low-light levels but with our preferred depth of field. Those were the choices behind shooting this with a digital camera.
I think [Stanley] Kubrick's a god, and the films that he's made are so incredible, and I just always think, "What would he have done being able to use digital cameras, and would he have embraced them or would he have shunned them the way, for example, Nolan likes to shoot everything on film?" You have so many more choices when you're shooting digital. Like you just said, you can shoot in these crazy low-light situations. For example, I think you use natural candlelight to light certain things.
ZAMBARLOUKOS: Yes. Like I said, I think it's not just that. There are other photographic attributes. I mean, I can't speak for Kubrick; he had such an individual approach. I think he did everything as he saw fit in a way. I feel like I wouldn't like to be restricted by being put into this idea that I would only use one camera or one set of lenses. I've changed systems and lenses according to the project's needs and my own interpretation at all times.
We have to thank, in a way, Anthony Dod Mantle for that celebration of whatever camera creates that intimate story. To me, he has done great things in that, and he should be praised for that because he has pushed for it, and he's a great analog film cinematographer as well. I think if you're as well-versed as someone like Anthony, then you're groundbreaking in that you're using different formats. He has, in many ways, liberated filmmaking from those kinds of dogmas.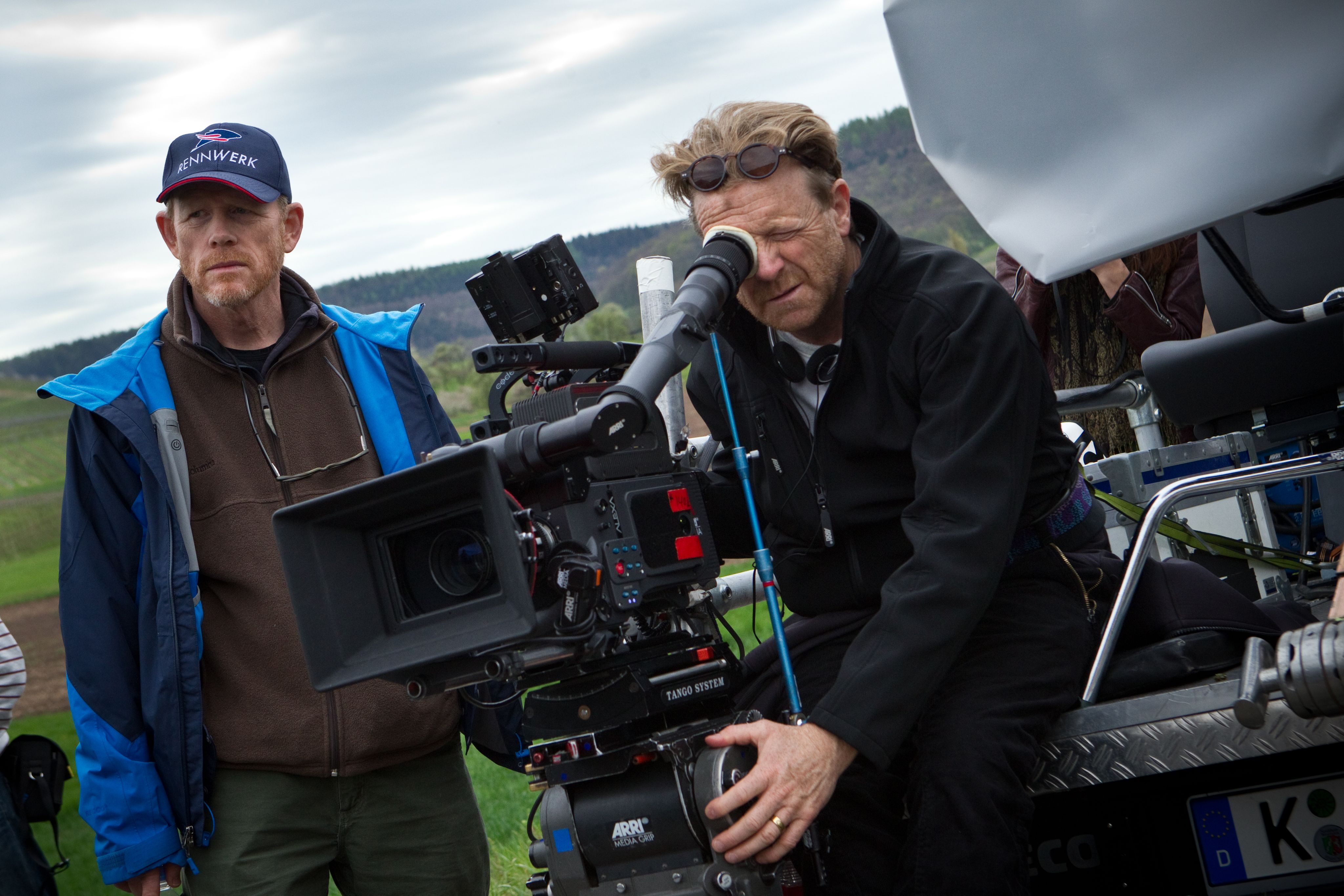 You guys shot on a lot of practical sets, and then you went to Venice for the exteriors. What was that like shooting on set and then going to exteriors? Do you prefer something like that, or would you rather do the exteriors first and then do the interior, or does that not make a difference?
ZAMBARLOUKOS: In our particular case, because we shot linearly, in a way, story-wise, over a morning through to an afternoon and night, it really didn't make a difference. The majority of the story happens chronologically in terms of how we shot it on stage anyway. So, I think, more for us, and it's a big deal for Kenneth, is to be able to shoot chronologically. That keeps you in rhythm with the story as you're progressing in a way, and it didn't interrupt our filmmaking a great deal, I'd say.
I'm a huge fan of Tim Burton and I wanted to know what it was like getting the phone call from him to possibly shoot a sequel that I'm very excited for.
ZAMBARLOUKOS: It's a dream project and one I'm very proud of. We still haven't finished, but hopefully we kind of have done something special there as well. Yes, I can't wait for that to be ready as well. So you've got two films for Halloween, this year and next year, to look forward to that I've shot.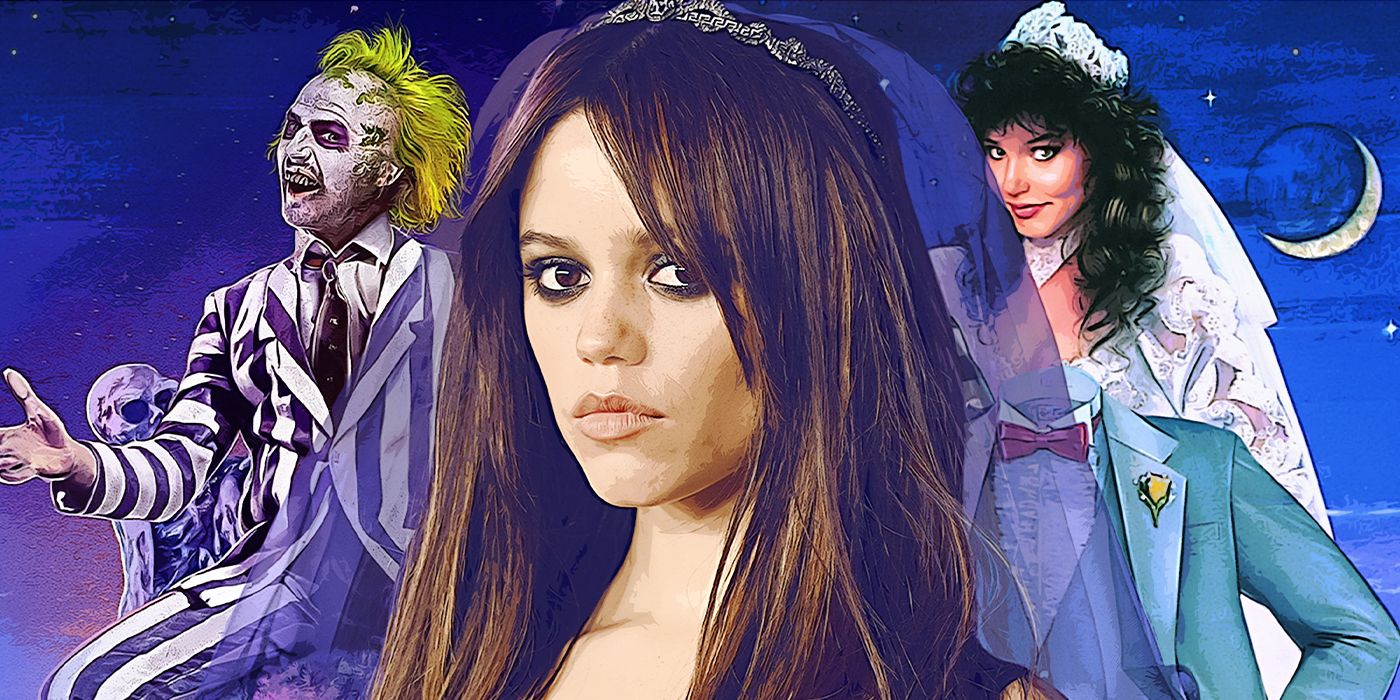 Exactly. One of the things about the first film is it's so great the way it was shot using practical everything, and I'm just curious before you start on a sequel to that film are you rewatching the first one? I heard you guys are doing a lot of the same stuff that was done in the first film.
ZAMBARLOUKOS: Yes, we certainly are shooting things in-camera and for real. That's part of the charm. I mean, he's a great filmmaker in that respect. He's both a visionary and a very classical filmmaker at the same time. We did a lot of that on Haunting in Venice as well. What you see in the film is very much in-camera. So, yes, I think I enjoyed that aspect of the filmmaking of these last two films I've made. I think I've enjoyed immensely that reliance on practical techniques. I think you get a very, very different kind of performance out of actors when things are done in-camera, and I think you get a very different audience reaction out of in-camera effects. Those things, for example, are far more important than whether something is digital or analog. It's the authenticity of the experience, I think, that is often kind of the most impactful aspect in filmmaking.
I could not agree with you more. When I see something that's done on green screen, it, it's let's just say it takes me out and when it looks like someone's standing in an actual building, you know, on and because the sets that you guys built for haunting are, you know, they're great and it just adds so much.
A Haunting in Venice is now in theaters.